Vanguard Cleaning Systems
Gamifying Cleaning for a Healthier Office
The gamification of essential cleaning services may be the solution to your office's employee created messes.
The cost of doing business continues to increase, leading company managers and owners to seek alternative methods to save money and cut expenses.
A primary expense, factoring into the total cost for green cleaning services, is the amount of time it takes for the vendor to complete all assigned tasks.
A significant portion of that time is spent on simple repetitive tasks, such as emptying employee trash cans, wiping down electronic equipment and desks, as well as general kitchen duties.
Gamification is a useful resource to engage employees in otherwise mundane operations that affect morale, productivity, and profit margins, and can serve as a time and cost-reduction mechanism for routine janitorial services.
Business Advantages of Gamification
Gamification is, by no means, a new concept.
Credit card companies and hotels have reaped the benefits of gamification for years.
While the term itself, as a cliched buzzword, has recently declined in popularity, its successful adoption within businesses continues to grow and mature.
The reason for this is gamification's proven ability to engage workers, resulting in reduced costs and increased productivity.
According to Badgeville.com;
Engaged companies grow profits as much as 3X faster than their competitors. andnbsp;Disengaged employees cost the American economy up to $350 billion per year due to lost productivity.
The issue of employee engagement is so severe Gallup reports on it daily: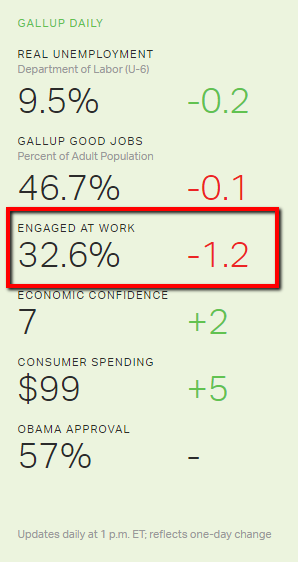 Tips for Gamifying Cleaning Services Related Tasks
The concept of profitably engaging a habitually disengaged workforce in the less-than-ideal task of cleaning up around the office may seem counterintuitive.
However, success has already been documented in this arena, with newer cleaning-chore based applications in development.
The most prominent success in cleaning gamification comes to us from Spanning–an Austin, Texas-based technology company.
Like many successful tech companies, Spanning experienced rapid growth that, in turn, led to a growing mess in their kitchen.
To combat this, two engineers from the company created an app that recorded who was completing what chores in the kitchen, and assigned that user points accordingly–earning the participant prizes.
The app was so successful that Spanning now offers it for free online.
Download Here:
For organizations that are looking for something a little more game-focused, a text-based RPG-style online application called Chore Wars is currently available.
Chore Wars allows you to sign up your entire office for free and create custom chores, granting the user's character experience points (XP) upon completion.
Signup Here:
Business Justification for Engaging Employees in Daily Cleaning Chores
Okay, gamification of cleaning services related tasks sound fun, but what is the impact on your bottom line? There are several business-specific reasons to consider implementing cleaning-chore gamification in any organization:
Basic tasks, such as emptying trash cans and wiping down desks will reduce the likelihood of germ transfer at work, as well as the amount of time it takes the cleaning services vendor to complete their daily tasks–resulting in cost reduction and improved revenue.
Encouraging employees to clean up after themselves makes them responsible for their actions, surroundings, and fellow workers–resulting in a stronger attachment and sense of camaraderie.
The two most occupied areas in an average worker's daily life are their desk and the company break room; both of which are hot spots for germs, with many items often cited as being filthier than a toilet seat. andnbsp;The premise being that any improvement in employees properly cleaning up their personal spaces, as well as items and areas used in the break room, will have a positive impact on absenteeism due to illness.
References
The Top Ten Gamified Productivity Apps
Takeaway
With a tailored approach, gamification can serve as a real asset to a business challenged by a lack of employee engagement throughout the company, especially where clutter and cleanliness are concerned.
This serves the dual purpose of improving the overall health of your office and its workforce, while simultaneously improving profits and reducing costs associated with illness and time the cleaning services vendor must spend on basic tasks.